Play like a magician during game night!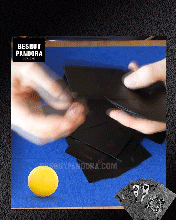 The most aesthetic Black-on-Black playing cards ever designed, where the black prints shines mysteriously on the coolest black background.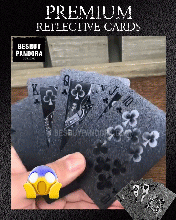 Printed with advanced high temperature laser hot-stamping technology, the suits & numbers will reflect the light and shine bright like a diamond in your hand.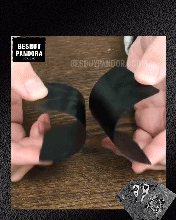 Unlike normal paper cards, these are made of durable premium PVC. You can bend, shuffle, toss and turn them for months and years, yet leaving them unscratched!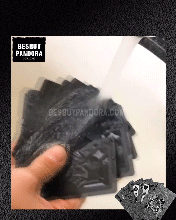 Spill drinks during a drinking game? No problem at all! These cards are also waterproof & washable, the true "best hand" for any game!
FEATURES
Premium Poker Decks
Perfect shiny surface, well-printed reflective characters and symbols
Smooth Edge
Never get hurt and makes you feel comfortable when playing with card game
Waterproof & Washable
Made with 100% high quality PVC plastic which can prevent any liquid, you can have snack time and play with it at the same time!
Ultra-Flexible
Promise you better shuffle considerably than normal playing cards. Spring back quickly, easier to practice on card tricks
Highly Durable
Specific designed playing cards are scratch-resistant, non-fade and durable
SPECIFICATIONS:
Material: 100% PVC material
Color: Black
Card Size: 63 x 88 mm
Thickness: 0.30 mm 
PACKAGE INCLUDES:
1 Deck x BlackMagic™ Diamond Playing Cards (54 cards)
1. COVID-19 UPDATE
There is nothing more important to us than the health and safety of everyone in the Thread Clothing Community - our customers, our team, and our artisans. Due to the ever-changing situation surrounding COVID-19, there may be a small delay in the delivery of your package. Customs and postal services in many regions are observing social distancing and have reduced their manpower. It is an attempt to help stop the spread of the COVID-19 virus that is currently plaguing countries across the globe.
2. How Long Does Delivery Take?
United States - Please allow 7-15 business days.
International - Please allow 12-20 business days (average) for the items to arrive in the following countries: United Kingdom, Australia, Canada, New Zealand, Belgium, Brazil, Switzerland, Germany, Denmark, Spain, France, Greece, Ireland, Israel, Italy, Mexico, Netherlands, Poland.
Due to the current situation with lockdowns across the globe, orders may take an additional 2-3 working days to be delivered. We are working hard to get all your orders sent out as quickly as possible and we're very sorry that it's taking a little longer than usual.
3. Do You Ship Worldwide?
Yes, zero-park® Clothing ships products worldwide every day. Shipping is available for most countries around the world.
4. Where's My Tracking Number?
Tracking information is available within 2-5 days from purchase. Tracking details will be supplied once the orders have been shipped. You will get an email confirming shipment of your orders, this will contain the tracking number. If you did not receive any message from us after 7 days from purchase, please contact our support team at contact us page, or reply to your Order Confirmation email.
5. How Secure Is My Personal Information?
SO HAPPY® Clothing adheres to highest industry standards in order to protect your personal information with the best security solutions. Your credit card information and personal details are encrypted during transmission using SSL (secure socket layer technology), which is widely used on the Internet for processing payments safely.
6. Can I Amend My Order?
We try to process orders as quick as possible to make sure you receive them as soon as possible. You can amend your order as much as you like before it is shipped out, but after this point you will be unable to make amendments to your order
7. What's Your Policy On Refunds?
100% Satisfaction Guarantee - We want to provide you with a risk-free shopping experience. We trust our customers to not take advantage of us on this offer, therefore If at any time within 30 days of receiving your offer you are not satisfied, we will refund your money. No questions asked.
8. Do I have to pay VAT / Tax?
You don't need to pay any taxes when order from us, and for most of the countries, our customers do not need to pay importing fees, duties or VAT(Valued Additional Tax).
9. Where I can track my order?
You can use your tracking number to track the parcel at here: TRACK YOUR ORDER